MOVING BEYOND PRODUCTIONS
EMPOWERING YOUTH THROUGH MOVEMENT
ABOUT US
mission statement
Moving Beyond Productions (MBP) is a 501(c)3 nonprofit corporation dedicated to empowering youth through cross-cultural arts learning. We are committed to empowering low-income and underserved young people through dance training, leadership opportunities, and performance experiences. Students learn to discover their unique style through creative movement and studying multiple styles of dance.
OUR STORY
MBP was founded in June 1998 by Colombian dancer and choreographer, Beatriz Helena Restrepo, and Swiss theater artist, Beat Rettenmund. Learn more about their compelling story here.
REBECCA CERVANTES
DIRECTOR
Rebecca Cervantes has been teaching dance to kids and adults all over San Francisco since 1994. Through MBP she is a recent recipient of a California Arts Council grant and she was also selected for Luna Dance Institute's Leadership Cohort for 2013-2014. She started teaching Hip Hop at the Mission YWCA, worked with adults at Rhythm & Motion and now teaches all over SFUSD and at The Marsh.
She was the Community Liaison for The Marsh from 2004-2010 and continues to bring economically disadvantaged children to performing arts classes. She believes that the skills that children learn through the arts can be used in other areas of their lives and is trying to manifest that through Moving Beyond Productions.
She has a B.A. from UCSC in Politics, and studied Modern Dance throughout college. She studied African-Haitian at CCSF, at SFSU and in New York. She has studied and performed diverse forms of dance, including Hip Hop, Salsa, Hula, Modern, Kathak, and Jazz.
She performed with and was Co-director of Mixtiso Latin Hip Hop from 2002-2010, performing and sometimes choreographing pieces for many diverse shows and venues. She directs, choreographs, and produces shows for many schools in San Francisco, as well as coordinating annual dance performances for Dia de Los Muertos and Carnaval.
SHELLEY KUANG
VOLUNTEER CONSULTANT
As a San Francisco native, daughter of Chinese immigrants, raised from Bayview, Shelley is a product of her educational experiences moving through the educational pipeline throughout her public K-12 education.
Graduating from UC San Diego's class of 2014 with a BA degree in Human Development, she has developed a passion for educational equity and social justice through working with underserved and underrepresented populations in the greater San Diego area through her involvement in the Asian Pacific-Islander Student Alliance (APSA), the Student Promoted Access Center for Education and Service (SPACES), and the Education Studies Department. As an action-oriented, critical, and self-initiated leader and thinker, her lived experiences and identities inform her work and her drive. Her frameworks and understanding of self and society come at the intersections of her love for creative and performing art and social justice work.

Following her undergraduate career, she moved back to San Francisco, and has been regrounding herself in her communities. Through her work, she aspires to empower youth to develop their critical consciousness and understanding that they can be agents of change and leaders of their own communities.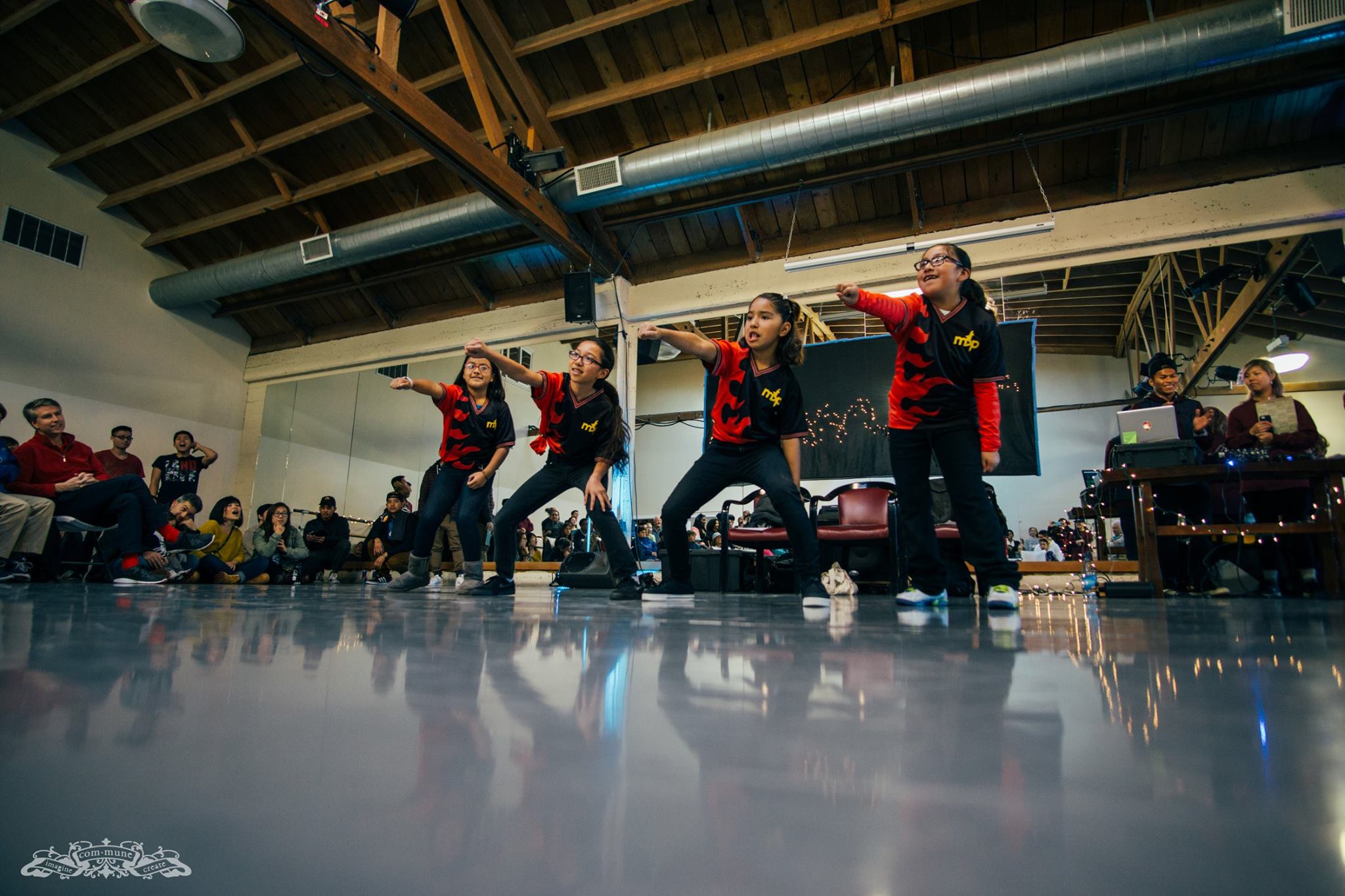 DANCE PROGRAMS & PARTNERSHIPS
SAN FRANCISCO UNIFIED SCHOOL DISTRICT (SFUSD)
LAFAYETTE ELEMENTARY SCHOOL
MOSCONE ELEMENTARY SCHOOL
DANIEL WEBSTER ELEMENTARY SCHOOL
FAIRMOUNT ELEMENTARY SCHOOL
Other offerings
PRIVATE LESSONS
QUINCEANERAS
PARENT-CHILD CLASSES
CHILDREN'S BIRTHDAY PARTIES
COMMUNITY EVENTS
YOUTH PERFORMERS
FILMMAKING
FILMMAKING WITH CINEMASPORTS
Filmmaking Workshops
Moving Beyond Productions has teamed up with Cinemasports to offer filmmaking workshops to Bay Area schools.
We help create short movies that involve dance, music, film, visual, and theatre arts. We collaborate with existing arts programs and teachers to foster the unique creativity of your student body in a single, shareable work of art.
Cinemasports has been organizing filmmakers worldwide for over a decade and run youth workshops internationally in the USA, UK, Taiwan, Laos, Thailand, Greece, Spain, Korea and Serbia. Cinemasports movies have screened at international kids' film festivals like Busan International Kids Film Festival (BIKI, Korea), MiCe (Spain), Skopelos International Film Fest for Youth (Greece), Colony (Serbia), and Asian American International Film Festival (NYC, USA)
Share Experience with Other Schools and Other Countries
Cinemasports student workshop movies take part in international filmmaking competition and exchange. As part of it's international focus, Cinemasports organizes international filmmaking events and competitions that foster cultural exchange through filmmaking. Youth make movies at the same time with the same assignment around the world. They share and learn from each other. In summer 2014, a Cinemasports Youth event movie from Valencia Spain was later selected to screen at the Cannes Film Festival.
Your Perfect Program
Contact us to design a program perfect for your school. We can collaborate with existing teachers in arts or even other academic subjects. Workshops generally last 16 – 30 hours over the course of a school term. Some existing funding is available to help bring this program to your school, or we can work with your program to secure funding.
LOCATION
113 Bartlett Street
San Francisco, CA 94110
E-MAIL
rebecca@movingbeyondproductions.org
SUPPORT
Now you can support us through TWO methods!
DONATE THROUGH AMAZON SMILE
Click the image below, and Amazon Smile will give back 0.5% of the price of Amazon Smile eligible items to fund MOVING BEYOND PRODUCTIONS
DONATE THROUGH OUR WEBSITE
Click the button below to donate directly through our website. 100% of your donation will help fund MOVING BEYOND PRODUCTION'S programming and operations